The robots meta tag lets you utilize a granular, page-specific approach to controlling how an individual page should be indexed and served to users in search results. These tags should sit in the section of a given page.
Website audits – how to create, present and sell website and SEO audits
Website audits are a great way to show your prospects or customers the value of your services. Most business owners aren't focused on improving their website, or even know the importance it plays in growing their business.
For instance, a business owner may want more targeted traffic or leads. They may not know what SEO is, or why it is important and how it can help them improve their online brand presence to bring them more business. So if your conversation begins with "we offer SEO services," and your domain authority is X you will lose them.
So instead of telling prospects, you offer SEO services, focus on their desired end result, which is growing their business. Show them you cared enough to do your homework by evaluating their site and provide them with an audit report that specifies the areas of improvement or opportunities you've identified. Make sure these are not generic but specific to them. You want to accompany the report with a consulting or strategy session to explain how these areas if addressed, can help their site rank higher, get more traffic and ultimately grow their business. Doing this helps you build authority and establish your expertise. More about this further down in this guide.
Point is, stop with the technical jargon. Remember, a prospect is more likely to value your services when what you deliver is personalized and presented in a manner that they can understand. And that's exactly what a good web audit can do!
But maybe you've tried offering web audits in the past, and really didn't feel like it did a whole lot for your business. Chances are, that's because you were using "traditional" audits – and you were then exposed to all the frustrations and challenges that go along with running and presenting those types of audits.
I want you to know that things have changed in a big way! In this guide, I will not only cover best practices for audits but will show you how we now run website audits faster and easier than ever before.
Website audits that help you get more leads and win sales
The frustrating challenges of traditional audits
If you've offered web audits in the past, or if you've even so much as researched whether it was a viable strategy for your business, then you may be acquainted with the challenges of traditional audits. Let me explain…
Traditional website audits are cumbersome
First, you had to run the various tools. Next, you had to extract the information needed from each of the tools. And finally, since the tools all had different ways of formatting the information, you had to reformat everything to make it presentable.
You can imagine how long these sorts of audits used to take. We'd easily spend 3-4+ hours running tools, compiling the information, and formatting it into a professional presentation. Does any of this sound familiar?
Traditional website audits take money
For starters, you needed to pay for multiple tools in order to provide a comprehensive audit. But what ended up being even more expensive, was the hours our team members had put into creating the audits. I am sure those of you who have done manual audits or delegated it to your team, have experienced how laborious and costly it ends up being. Sure we got paid well if the audits were part of a project discovery or consultation session deliverable. What really sucked was when we spent hours creating these audits as part of our sales prep and it did not lead to us closing the deal. Does this sound familiar? Keep reading till the end to learn how we now do sales prep in 5-10 minutes, and wow our prospects with a website audit report.
Traditional website audits include technical mumbo jumbo
Most auditing software creates reports that are of value and interest to web professionals and SEOs like yourself. But if you present the information as-is to your client, you're going to be overwhelming them with jargon that they're not going to understand.
How to Conduct a Website Audit
1. Run Your Website URL through a Site Audit Tool
Before you get started, you'll want to find a website auditing tool that can help you analyze how your website is performing. When you use site audit software to run your site through, you can get specific recommendations and test how your page is performing.
2. Find Technical Errors
Once you've put your site through an auditing tool, you'll want to look for technical errors. These could be related to performance, SEO, mobile, security, and more. The technical site structure and setup of your site play a large role in how well your website performs for customers.
3. Identify SEO Problems
4. Analyze Design and UX
One of the things I like to look for when conducting a website audit is the user experience. How is this design working for your customers? Some software has heatmaps of what parts of your design draw the most attention and what users are reading. This type of analysis will let you know how the overall design and user experience are impacting your visitors.
5. Assess Website Content
A website audit will help you assess website content including blogs, website pages, etc. You'll want to know how your current pages are stacking up. Ask yourself, "Is my content ranking well in search engines?" and "Is my on-page SEO and performance aligned with my traffic numbers?"
6. Generate a Checklist of All Site Issues and Recommended Fixes
Lastly, when you're conducting a website audit, it's important to have a place where you put a summary of all your findings. List out the site issues and recommended fixes, so that you can send that information to the appropriate teams.
2. Your Website Isn't Properly Optimised
Areas for optimisation in content – thin, useless content will need updating, redirecting or removing.
Images not properly tagged – this is how search engines know what the image is.
HTTP / HTTPS – identifying any mixed content issues on the website.
Meta issues – ensuring all pages have unique and relevant meta data.
Headers – Ensuring H1's 2's and 3's are used properly throughout the site.
Mobile responsiveness – mobile traffic now outnumbers desktop traffic – you need to make sure your site functions properly on mobiles and tablets.
URL structures – ensuring all your pages have proper URL structures.
Indexability – ensuring that all relevant pages on your website are indexable, and blocking those that do not need to be indexed, for example, a 'thank you' page.
Duplicate content – Identifying and rectifying any pages with similar or identical content.
Broken links – both external and internal 404's will need to be rectified/redirected.
Some established websites may have taken part or worked with SEO companies that provided them with 'black hat' SEO methods back in the day; this could include link farming, keyword stuffing, cloaking or similar.
All of these methods may have worked to increase rankings and traffic at the time – but websites that partook may now find themselves being hit with penalties from search engines as their algorithms become more intelligent.
Why Pay For an Audit When You Can Get One Online For Free?
You're probably aware that a quick search for 'free website audit' reveals a whole host of free audit tools available – there's no harm in using these tools, but they are a lot less effective than a proper audit.
Returning to the vehicle analogy, if a warning light illuminates on your dashboard, the budding mechanic inside you rightly does some research, finds out the meaning of the warning light thus successfully diagnosing the problem, but you'd still take it to a trained mechanic to fix, right?
So, whilst these online audits are free for the most part and give a reasonably accurate high-level insight of your website's performance – they are generic, simple and can be misleading or confusing to somebody without the expert guidance to properly rectify any issues they throw up.
Sources:
https://www.mywebaudit.com/blog/web-site-audit-guide
https://blog.hubspot.com/marketing/website-audit
https://allthingsweb.co.uk/blog/5-reasons-why-you-need-a-website-audit/
Website audit
Our Website SEO Audit services are designed to solve this problem for busy website owners. For an affordable price, we'll conduct a one-time SEO and website health audit and share the results with you on a Zoom video call with detailed recommendations on the top priority items to address.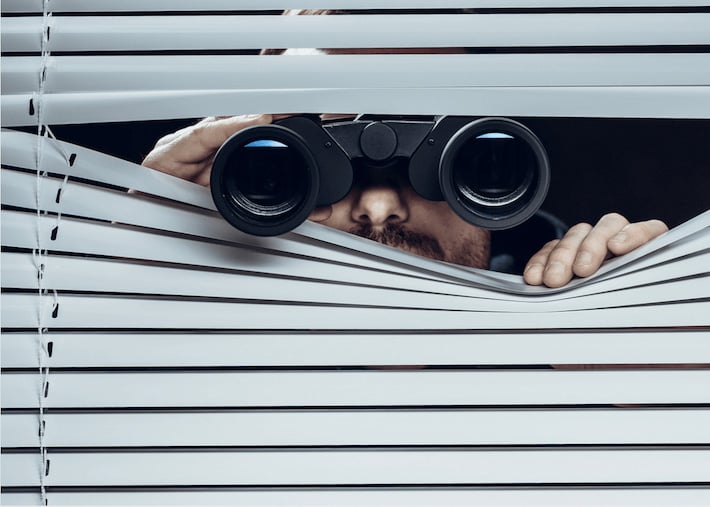 Website Audit Checklist for 2021 [Template and 15-Step Guide]
Website audits can cover lots of areas, including your website's technical performance, search engine optimization (SEO), user experience (UX), website content, design, and accessibility. The checklist and template presented here covers all of these topics.
A templatized, one-size-fits-all website audit can be helpful as a starting point, but a real website audit needs to also take into account the specific needs, functionality and structure of the website. And every website (and every business) is different. Take the time to consider what's important to your website (and to your business), and if you decide to work with an SEO consultant or order a professional website audit service, make sure they ask you questions about your business objectives and current pain points before they get started.
Step 3: Check that your website is mobile friendly
Similar to the mobile-friendliness check, website page load times are another area to monitor and work to improve. A website with pages that load quickly offer a better user experience, and page speed is one of the "ranking factors" considered by Google.
The recent Core Web Vitals update expands this focus on the user's experience of how a webpage loads. The Core Web Vitals update also prioritizes the visual stability of webpages as they load and the time it takes for elements on a webpage to become interactive.
PageSpeed Insights provides reports on mobile and desktop performance, and uses both lab and field data. Lab data is collected in a controlled environment and will be available for all websites. Additionally if your website has sufficient traffic, field data may also be available from real user sessions.
Don't be surprised if you get different results from all of these tools. You'll even get different results for the same URL from the same tool from test to test, since each time the test is performed conditions will be different (as they are for real-world users).
How to do a website audit without going insane
Let's say your website is a house and a person jogging on your street needs to use the bathroom. Would they choose your house? Feel comfortable? Have any trouble finding or using the bathroom? These are the shoes to put on for your light website audit.
This audit has a little bit of everything from each of the subsequent phases and applies them to just the core pages of your site (home, about, products/services, pricing, contact, ec). It's a nice warmup round, designed to catch any glaring errors or easy fixes you can get out of the way first (and prevent you from going insane).
Light website audit checklist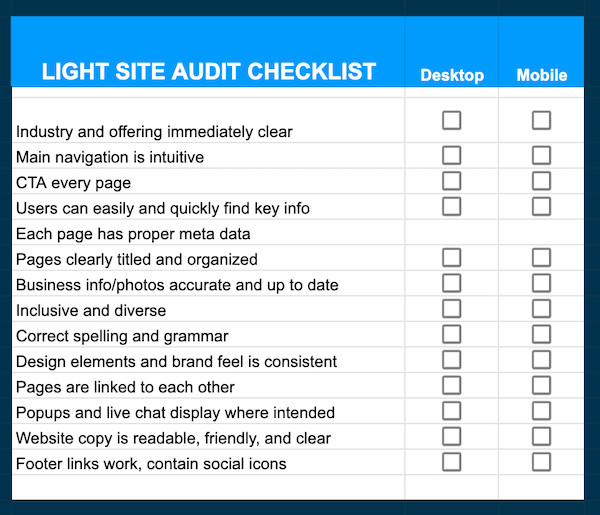 Light website audit template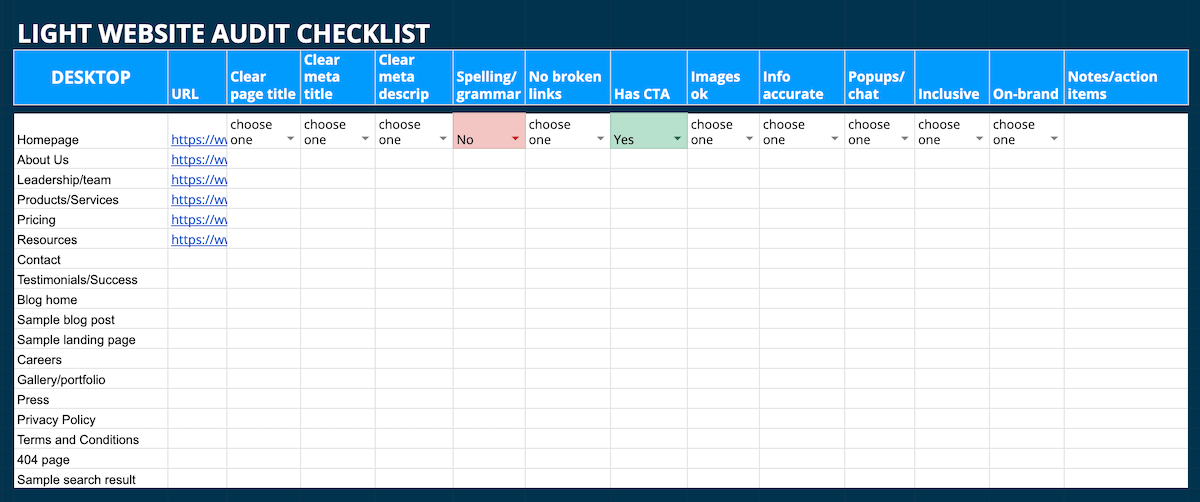 SEO content audit
Alright, now step out of your random runner shows and into your appraiser shoes. An appraiser determines the value of a home based on its condition, quality, age, and more. From an SEO standpoint, both Google and users are your appraisers, so you'll want to have a Google shoe on one foot (Converse?) and a user shoe on the other (Crocs?).
In literal speak: Google wants to provide only the most accurate and reliable search results for its users (expertise, authority, and trust, or EAT). Your SEO content audit here covers the quality and relevancy of your content as well as how well you convey both of those to Google.
SEO content audit checklist
Traffic: organic traffic (to prioritize pages or compare date ranges and check for significant drops/increases). See our SEO metrics guide.
On-page keyword targeting: keywords in the meta title, meta description, H1, H2s, image file names, alt text, and [not stuffed into the] body content. We provide on-page SEO help here.
Meta description and title: front-loaded with keywords, within character count limits, optimized for organic CTR (compelling and shows value). See our posts for help with meta descriptions and meta titles.
Images: no broken images, file names contain keyword, alt text is descriptive and contains keyword, images are compressed and properly sized. Image SEO guide here.
Quality: information is organized into clear sections, accurate, up to date, and thorough (not thin?). More on quality content here.
Links: Links work, page is linked to from other relevant pages on your site. Link-building tips here.
Backlink profile: Quantity/quality of backlinks (GSC can give you some information on this, but an SEO tool will give you deeper insights). Backlink tips here.
SEO content audit template
Here's what the SEO content audit tab looks like in your template. Since SEO content optimizations are page-specific, the items to check are horizontal as you'll have a list of pages to audit. And you might go insane if you had 14 lines for each page you have to audit.
Website audit is easy & efficient with the right website SEO checker.
Technical SEO analysis and on-page optimization demand solid data evaluation and a good deal of multitasking which can get messy. WebSite Auditor SEO tool accompanies its SEO audits with neat visualizations of accurate data:

I have been really impressed with the features that Website Auditor has to offer! This tool has really helped me to understand SEO better. If you are looking for software to help drive your keywords to search engines, and get a top 10 placement in search engines, then Website Auditor is a must have.


Website Auditor is the advanced onpage tool that saves you tons of time and arms you with detailed recommendations on how to boost your traffic quickly and easily. Having access to this information will put you in a very powerful position and make you one of the strongest SEOs in the business.


WebSite Auditor is very well structured and provides some essential information, summarization and visualization options. I have found the tool really useful both to SEO newbies and practising SEO consultants.

Making an SEO Audit report in WebSite Auditor is as easy as going to the Reports module, letting the tool create a free report. Use ready-made templates or customize your own to add those SEO factors that you want to monitor.
Sure you can! The website SEO checker will bring you optimization ideas from up to 10 top-performing sites in your niche. Or create a project for any competitor's domain, and let the tool analyze your competition's SEO health.
Yes, there is a free version available! And while that free version is limited, it's still usable for lower volume SEO campaigns. Check out the comparison page for more information on the differences between a free plan and the paid ones. Besides, you can use a one-week free trial to feel the power of the full-feature toolkit.
Sources:
https://www.bluehillsdigital.com/articles/website-audit-checklist/
https://www.wordstream.com/blog/ws/2022/01/24/website-audit-checklist
https://www.link-assistant.com/website-auditor/
Website audit
The domain analysis allows us to understand which keywords the domain is ranking for, which pages drive the most traffic from search, and who the competitors are. It also helps to identify keyword gaps in the domain's promotion strategy.
SEO website audit service
Today, no business can survive without a proper SEO strategy. Having a well-crafted strategy has become a necessity for many startups. Yet, before creating an SEO strategy, it's critical to have a clear understanding of your website. To achieve this, a technical SEO audit is essential. And it's not just a new website, those that underwent through maintenance or a complete redesign are in need of site audit. After all, a website SEO audit takes away the guesswork from SEO and helps you align your business activities with your digital marketing efforts.
SEO audit in a nutshell
Similar to market audit, all SEO audits aim to identify blind spots and accelerate your rankings. Website SEO audit helps bring prospects to your site through organic search, as well as increase your online presence. Major search engines change their algorithms on a daily basis, and not knowing your position within the system can have a significant impact on your financial status. The site audit itself can be done using specialized tools or by an SEO expert.
When and why you need a site audit:
If you have made significant changes to your site, whether design, domain migration, a shift in content, or technical changes, performing a site audit will help you regain your previous rank.
A website audit is needed when you have made significant changes to your site. Be it design, domain migration, a shift in content, technical changes, performing a website audit will help you regain your previous rank.
If your site has a plethora of plugins, it's vital that you do various SEO audits. There can be many different issues that might actually hinder the performance of your site. A good example would be when some of your plugins are outdated or interfere with search engine crawlers, bots, etc.
Another thing that might lower your ranking is irrelevant content. SEO and content come hand-in-hand and having keywords that have nothing to do with your customers will result in major losses.
Slow load times will leave your potential customers frustrated, not to mention search engines. Providing an unresponsive experience means you signal the ranking system to lower your position.
If by any chance you have duplicate content on your site, then you are most likely raising concerns over indexation. This'll impact your page authority, meaning that fewer people will see you in the search result.
If your website isn't secure (i.e, https) then your site puts your visitors' privacy at risk. True, there are many sites that still operate using old protocols, but providing a secure connection is slowly becoming a key advantage.
If your site is not following Google's Webmaster Guidelines, it won't appear in search results as often.
These reasons are only a fraction of the full list. Conducting SEO audits will help you outline key issues, as well as create a plan to mitigate them. It's important to follow industry-established guidelines as they'll help you gain more prospects.
What is a Website Audit?

Address and fix critical, but often overlooked and ignored website issues to maximise your online marketing and SEO efforts.

Why audit my site? A web site audit is the professional analysis of your website. It determines which errors are decreasing your site's quality and visibility on top search engines, as well as determines which elements should be added to your site to rank high on search results . A technical site audit crawls your website to check for broken links, which could damage both your site's visibility and ranking. Normally, we perform a technical site audit together with an SEO website audit in order to check for broken links within the site, remove blackhat-SEO techniques that might hurt your ranking, and check for duplicate META pages and information, keyword stuffing, and non-SEO friendly links.
Ideally, an online SEO audit report needs to be generated before you launch a Search Engine Optimisation (SEO) campaign or Local Buzz campaign . Doing so will help us customise our solutions to build your brand and market your products or services.
What can Whitehat's Website Audit Services do for your business?
After we perform a comprehensive SEO web audit, we can recommend changes that you need for your site, such as change in website design and website architecture, creation of unique content , link building, and use of the right keywords. All these are aimed to make your site more visible to your target audience, and ensure that traffic converts to leads.
Conducting a website audit on your own requires the right skills, years of experience, proper set of tools (software), and ample time. As a business owner, you may not have these within reach as you need to focus on your company. With Whitehat's help, you can focus on growing your business while we check your site and find ways to improve it. Combined with our white hat search engine optimisation and social media optimisation services, your site will definitely be visible, get more traffic and attract new clients.
Keyword Analysis

Website audit reports are performed to identify issues with the website that would negatively impact your ability to rank your website higher in the search engines. However, it is of extreme importance that we take into consideration WHAT you are trying to rank for when someone types in a search phrase into the search engine. Do you plan on showing up if someone is going to "Google" the search phrase "London accounting firm"? Before running a SEO site audit report we need to identify what your target search phrases are. What do you want to show up for when someone types in that particular phrase into the search engines? Ideally, a site audit report is to prepare your website for an inbound marketing campaign, and therefore we preferably have a "finalised" list of search phrases that you want to rank for. When we have this list we will further analyse the relationship of those search phrases to your website content, and also dig deeper into the competition level of those keywords. If there are any issues with the search phrases you want to target, we will let you know. This is a vital part of the website audit report because choosing the right search phrases to target is an enormous part of creating a successful inbound campaign.
Content Issues Duplicate and Non-Relevant
In relation to the search phrases you want to target, does your website have a significant amount of content talking about the subject of the search phrases you want to target? If someone landed on your homepage, would they immediately be able to identify that your website is relevant to all the search phrases you want to target? Are all the primary written content on your website unique and not duplicate content from another website? Do you have a lot of non-relevant pages about other products, services, or industries other than the search phrases you want to target on your website? When it comes to analysing your website's content vs. the search phrases you want to target, there is a lot to take into consideration and we will report to you any issues we find in regards to this on the on site audit report.
Crawl and Indexing Errors
Ever wonder how Google knows about your website? Google has little robots they deploy to go visit your website and they "crawl" your website. Their robots act like a human clicking through to different pages on your website. After their robot is finished crawling your website they "index" certain pages of your website in their database. Only pages indexed in Google will show up when a user does a Google search or you run a Google website audit. Why is this important? Well, if you have a 100-page website and only 5 of your pages are indexed in the Google database, you have a serious problem. What causes pages not to index in Google? The answer could be poor content, duplicate content, broken links on your page, and any other issues preventing the Google robot from crawling particular pages. Our SEO page audit report will analyse and report on such issues. We can show you how to do website audit reports that help your rankings.
Page Error Issues
Do you know if you have broken links on your website? Many times, pages or the location of pages within your website are changed, and all the other pages with links to the "changed" page are not updated, and thus all the other pages linking to the changed page now have broken links. When judging a website's ease of usability, we always look at the number of links as a good indicator. When users click on a link on your website and are directed to an error page, this can cause the user to leave your website out of frustration and not return. As part of our site audit report we will analyse your broken links and report to you on any issues we find.
Back links Analysis
Sources:
https://panem.agency/a-seo-audit
https://www.whitehat-seo.co.uk/website-audit
https://www.webceo.com/website-audit.htm